The Baltimore Ravens are a unique franchise. Risen from the ashes of an existing and storied NFL institution, and having already won two Super Bowls in its relatively short history, the Ravens have an unusual status not only in the NFL, but across all major sports.
Much of the team's success is attributable to its departing general manager, Ozzie Newsome, whose background is as remarkable as that of the team he has carefully nurtured for so many years. Few men can claim to be one of the best ever players at a big-time college like Alabama and to have been inducted into the College Hall of Fame. Of those even fewer went on to play at a high level professionally for over a decade for a single team, becoming one of their best ever players, winning the NFL Man of the Year award, and being inducted into the Pro Football Hall of Fame. If anyone else did achieve all of that, no one but Ozzie Newsome went to become such successful GMs that they'd be Hall of Fame worthy even if they'd never played the game.
Following this week's draft, the Ravens will enter a brave new world under soon-to-be GM, Eric DeCosta, and the franchise will enter next year without Ozzie's involvement for the first time in the team's history. After he departs, how will the team's veteran GM be remembered in Baltimore?

Ozzie Newsome's draft successes are legendary; some of his greatest selections and decisions are spoken of similarly to the acts of a mythical hero. It won't take you long to find fawning tales about Newsome's bravery in overruling owner Art Modell to take Jonathan Ogden in his very first draft, or him overruling owner Steve Biscotti to draft Ed Reed, or the fact that he's drafted players who went on to win Super Bowl MVP, Offensive Player of the Year, Defensive Player of the Year and Defensive Rookie of the Year awards.
The 'Wizard of Oz' moniker bestowed upon him during his days playing for the Crimson Tide might just as easily have been given to him for his work as a GM. In the past week, his NFL executive peers voted for him as the league's most respected decision-maker, many years after his greatest achievements. But for some time there's been a growing sense that Newsome has become more revered outside of Baltimore than within it, as recent draft failures have taken their toll on fans.
The malaise began in earnest in 2010, when only one of the team's 7 draft picks could be considered a success – 4th round tight end, Dennis Pitta – and the first and second round picks – Sergio Kindle and Terrence Cody – were abject failures. Since then there have been several draft disappointments, particularly with offensive players.
Ozzie was once renowned as an unorthodox thinker, but in recent years he's been widely criticised by Ravens fans for being too much a creature of habit. His tendency to stick to what he knows has been painted as stubborn, simple and even scared. Ask a Ravens fan about his wide receiver picks and you'd be sure to hear some jokes. Meanwhile, his supposed predilection for drafting defensive linemen early has become meme-worthy, even if it's not strictly accurate – since taking Haloti Ngata with the 12th overall pick in 2006, Newsome has only selected three DLs in the first 2 rounds, all coming in the second.
Since the team's 2002 season Super Bowl XLVII victory, the Ravens have made the playoffs only once, in 2014. This fallow period has caused concern amongst a fanbase used to post-season play and much of the blame has fallen on Newsome.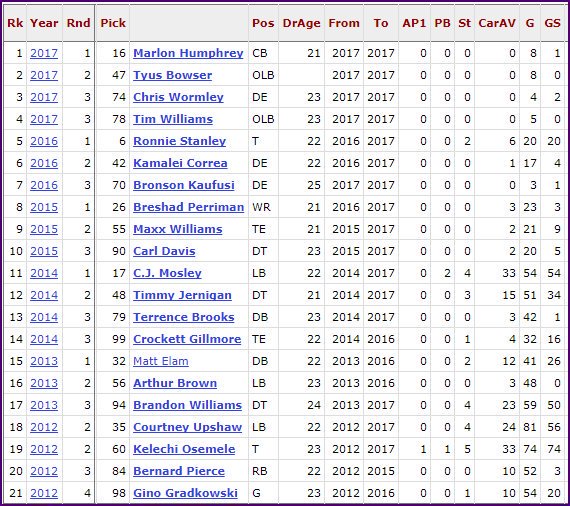 The table above shows all of the Ravens' draft picks in the top 100 since the Super Bowl season, and it paints an ugly picture. Unqualified successes are few, while the busts are plentiful. Even so, not long ago any allusions to Newsome's draft missteps would be result in the speaker being labelled as disloyal and ungrateful by fans still very much beholden to the 'In Ozzie We Trust' mantra.
However, the murmurs of discontent grew in volume as the years without playoff football continued, and as it became clear that 2015 first round WR Breshad Perriman would be a colossal disaster, the murmurs from some fans turned to all-out rebellion.
Seemingly recognising his own failings, Ozzie is calling it a career (as GM) and hoping to go out on a high note. The question for Baltimore fans is, in decades to come, how will he be remembered? Will fans remember his role in the Super Bowls and in making the Ravens a perennial contender for so long, or will the barren end and his inability to draft offensive stars take precedence in our minds?
'Wizard' or not, Ozzie was never infallible, and his supporters should never have depicted him as beyond question or reproach. But despite his foibles and mistakes, his steady hand has been one of the defining characteristics of the franchise since its inception. One day, the decorated Newsome should have another accolade to add to his extension collection – a place in the Baltimore Ravens Ring of Honor. Some may even go a step further and advocate for a bronze figurine outside M&T Bank Stadium. Team executives don't tend to get statues, but our Ozzie? He was special.